Creating a Bot
Bot creation flow
The bot creation requires the following steps:
Log in
First you need to log into the developer console. Then you should be presented with the console home screen.

This page will list any bots that you have already created.
Create new bot
Tap the "Create New Bot" button. This will take you to the Initial Bot setup page. This is a required step.
Define your conversation
To complete your bot you must provide one or more of the following three sections.
Add skills to your bot. This page allows you to add bots from the store to link to your newly created bot. See Add skills to your bot for more detail.
Add a training file to your bot. This page allows can add some training data to your bot. See Uploading Training Data for more details.
Specify intents for your bot. This page allows you to specify an "intent", which is the capability to capture context data from your chat users that allows you to take an action, either in your client or using a webhook. See Intents and entities for more detail.
The bot creation wizard takes you through "Add skills" and "Training Data". Once you have completed the wizard you can edit your bot to add an intent or modify the linked bots or training data.

This video tutorial will guide you through the process of creating your very first bot. Click the image below to start the video or play here.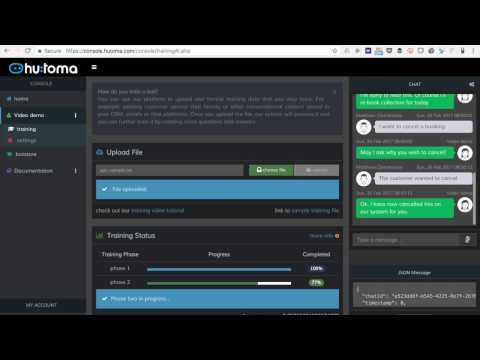 ---
---