How to integrate your Bot to Facebook Messenger
Having a chatbot can drastically improve your business and boost your social media marketing reach, especially if you engage with your customers on a platform with billions of people such as Facebook.
Our Facebook Messenger integration allows you to deploy bots powered by the Hu:toma API directly on a Facebook Page with just a few clicks and no coding needed. In order to set up the Facebook integration for your bot, you'll need:
A Facebook account
A Facebook Page
Once deployed, your customers will be able to talk to your Hu:toma bot directly from your Facebook Page. The integration requires no hosting or coding but let's go over an example.
Create A Facebook Page

If you already have a Facebook page, you can go directly to Step 2. If not go ahead and create a Facebook page. Our sample page is called "MyHutomaTest"


Create Your Bot

At this point, you should have a good understanding of how to build a bot with the Hu:toma Botstudio. If you need to go over the basics again, jump back to the creating a bot section or watch our video tutorial. Once the bot is created, you are ready to connect it with your Facebook Page.
Integrate your Bot with your Facebook Page

You are now ready to integrate your bot with your Facebook Page. To do that, click the "Integration" menu option. You should see a screen that looks like the following:



Go ahead and click the "Connect To Facebook" button. This will fetch a list of pages that you could connect to your bot.



Now click on one of the pages listed and that's it!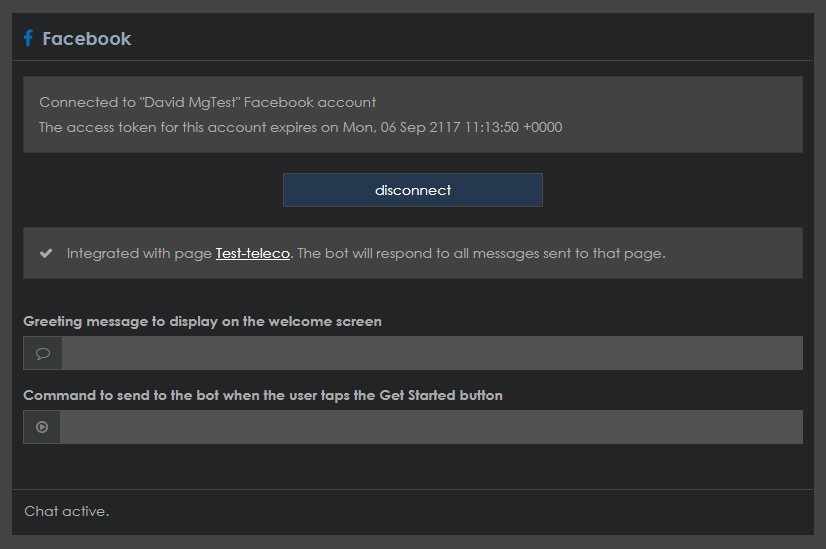 ---
---