Adding simple intents, mapping questions & answers
Simple Intents

Intents are the easiest way to map questions your Human users might ask with the responses your Bot gives.   

From this Intent screen you can view all of your intents.  Each is editable when you click into them.   Create more intents by clicking the "New Intent" button.    
Each Intent is given a name to help you find them in future.   You can search on this 

In this example we create an intent called "Reset_Password".   See #1 in the screenshot below.  
Intent names can only contain numbers, letters, underscores, and hyphens without spaces.  


Add the questions that your human users might ask the bot in "Human Says" (#2) and your bots' responses in "Bot Responds" (#3).   Just type away the answers and click enter.  

You can add as many entries into the "Human Says" section as you like to account for the different ways in which the intent might be asked.   

 
In Bot Responds (#3) This is where you define your bots' responses to a users question.    

You can add URLs to content that you have published elsewhere online.  For instance links to articles in your knowledge base or video tutorials published on Youtube.   

For the moment if there are multiple entries in "Bot Responds" then they will be chosen at random.   

Once you have finished with adding "Human Says" and "Bot Responds" click Save or "Save and add new Intent" (#4) if you'd like to add another Intent.    

You can always return to the intent in future to edit these.   

Bulk Upload of Intents 
If you have multiple Intents to upload you may find it easier to upload them using our "Upload CV file" functionality.   Before you start creating your first intent you will be presented with this option.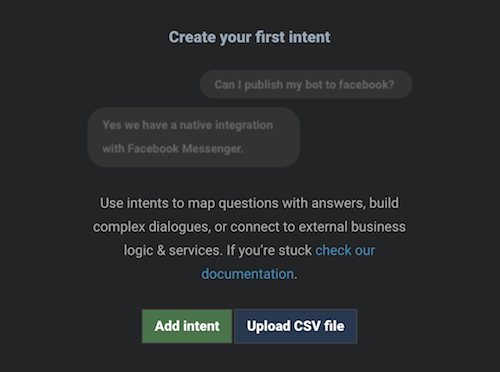 By clicking the "Upload CSV file" button you'll be presented with an option to select a CSV file you have containing your Intents.  

This should be in a CSV file in the following format.  


User Says should be separated by a ;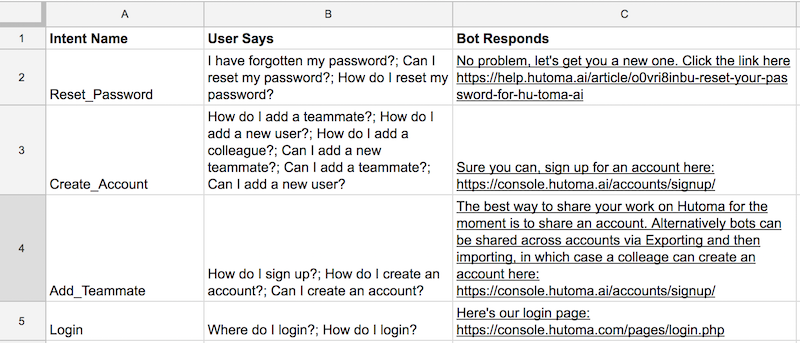 ---
---